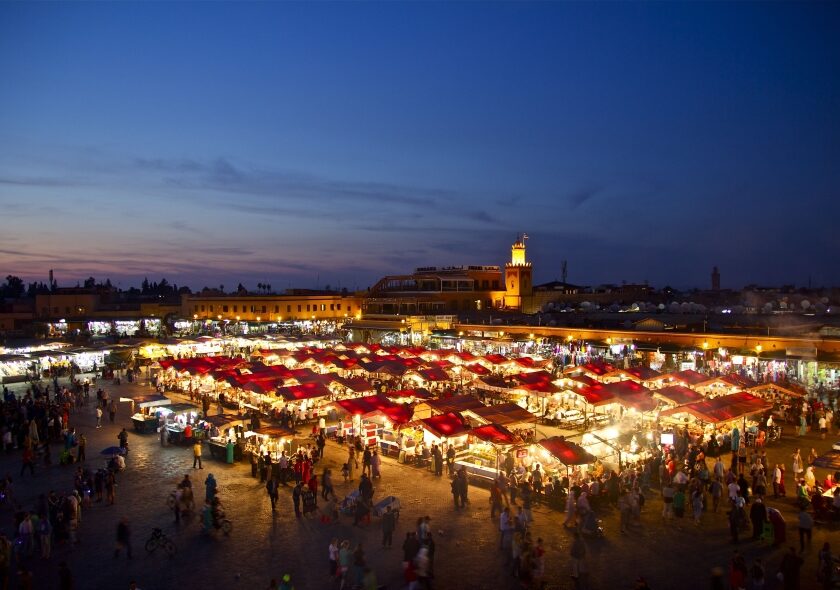 Marrakech
Marrakech is a vibrant and historic city located in the heart of Morocco. Founded in the 11th century, Marrakech is known for its rich cultural heritage, stunning architecture, and bustling markets.The city is home to several significant landmarks, including the Koutoubia Mosque, one of the largest and most famous mosques in Morocco, and the Bahia Palace, a stunning example of Moroccan architecture with intricate carvings, mosaic tiles, and beautiful gardens.One of the main attractions of Marrakech is its medina, a UNESCO World Heritage site, and a maze of narrow streets, alleys, and markets where locals and tourists alike can shop for traditional handicrafts, spices, and other goods.Another popular destination in Marrakech is the Jardin Majorelle, a botanical garden designed by French painter Jacques Majorelle. The garden is home to over 300 plant species and is a peaceful oasis in the heart of the city.Marrakech is also known for its vibrant food scene, with plenty of restaurants and cafes serving traditional Moroccan cuisine like tagine and couscous, as well as international cuisine.Overall, Marrakech is a must-visit destination for anyone interested in history, culture, and vibrant city life.
Founded
1070–72 by the Almoravids
Area (km2)
230 km² rancked 3th in Morocco
Not a Member Yet?
Join us! Our members can access savings of up to 50% and earn Trip Coins while booking.